A SHORT HISTORY OF
NO.81 SQUADRON
ROYAL AIR FORCE
1917-1963
By
Flt.Lt Robin A. Brown.
Tengah, November, 1963
PART 1 - WORLD WAR 1
1, Very little is known of the beginnings of 81 Squadron, R.A.F. The first official indication of its existence comes from records dated July 1917, when it was based at Scampton, North of Lincoln.
2. Originally there were two sorts of Squadrons
–
Operational and Reserve. 81 would certainly have been a Reserve Squadron, but on 31st May 1917, all existing reserve Squadrons were re-named Training Squadrons.

3. To begin with81 Squadron was equipped with Sopwith Camels, and later in 1918, with Sopwith Dolphins. About July, 1918, the Squadron appears to have been disbanded.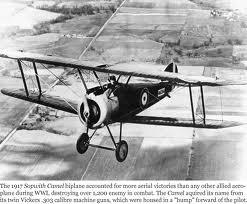 Sopwith Camel
4. On 20th November, 1918, nine days after the War ended, 81 Squadron came back into existence as No. 1 Squadron, Canadian Air Force, based at Upper Heyford, Oxfordshire, equipped with Sopwith Dolphins.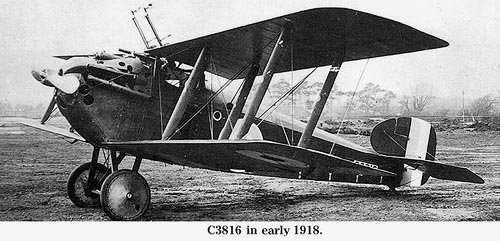 Sopwith Dolphin
5. To trace the reasons for this re-formation, it is necessary to go back to the Autumn of 1915, when the British War office, suggested to the Dominions, that they might like to raise complete "aviation units", in addition to the many individuals from the Dominions who were joining the R.F.C. and R.N.A.S. Australia, for one, did so, and by the end of the War, the Australian Flying Corps, comprised four squadrons.
6. Canada, however, decided against raising squadrons, and favoured the policy of individual Canadians joining the British flying services. As the War progressed it became evident to the various Canadian authorities, that a large percentage of the officers flying with the R.F.C. and R.N.A.S. were Canadian, and that many of the top scoring fliers were from that country.
7. The idea of all- Canadian squadrons was therefore put forward again, but by this time the British War Office was not quite so keen. The reason for this being the dislocation that would be caused in the operational squadrons, by the sudden withdrawal of many Canadian aircrew. Eventually the British agreed to the idea.
8. By July, 1918agreement had been reached over the details. Two Canadian Squadrons were to be formed, organised in Britain by the Canadian authorities, in conjunction with the R.A.F.
9. On 5th August, 1918, an Air Ministry memorandum was issued stating that two Canadian squadrons would form on 10th October. They were to be No. 93 and No. 123 Squadrons.
10. The training of Canadian ground personnel lagged, though, on the 19th October, a new Air Ministry order was issued changing the date of the formation to 20th November, and replacing No 93 Squadron with No. 81 Squadron.
11. 123 Squadron equipped with DH 9a's?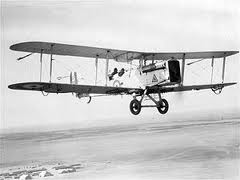 DH 9a
12. Although the RAF continued to refer to these squadrons as 81, and 123, the Canadian Authorities, designated them No. 1 and No. 2 Squadrons Canadian Air Force respectively? A. B. McKeever was appointed to command 81/1 Squadron.
13.Major A.E. McKeever,D.S.O.,M.C., to Europe with the Canadian Expeditionary Force, and had later joined the R.F.C. He held the D.S.O., M.C. and Bar. He had done his operational flying on Bristol Fighters with No. 11 Squadron in France, and was undoubtedly the top scoring Canadian two-seater pilot.
How many aircraft he brought down is difficult to establish. Various authorities have placed his personal score (that is the number of enemy aircraft that fell to his forward firing guns) between 23 and 31. However the figure of 38 is also mentioned as including the aircraft brought down by his observer – the theory being, that the observer's kills were to some extent due to the skill of the pilot in positioning the aircraft.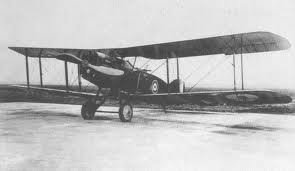 Bristol Fighter
14. I February, 1919, a Canadian Wing was formed to exercise control over the two squadrons commanded by Major Robert Leckie, D.S.O., D.S.C., D.F.C., later to become C.A.S. of the R.C.A.F.
15. In March, 1919, 81/1 Squadron moved, with 123/2 Squadron, to Shoreham, near Brighton. 81 Squadron's flying was restricted owing to some difficulties experienced with its aircraft.. Orders restricting flying in Dolphins were issued in February 1919, and later flying in these machines was stopped altogether.
A request was made in March 1919, that the squadron be re-equipped with S.E.5a's. The squadron did receive these machines, but it is not known whether re-equipment was complete by the time 81/1 was ordered to disband. The log book of Captain G. O. Johnson, record flights in Sopwith Pups, a Bristol Fighter, an Avro 504, and a DH 9a from Shoreham over this period.
16. In the beginning it had been hoped that the C.A.F. would return as a unit to Canada, but in June 1919, orders were received from Ottawa that the C.A.F. was to be disbanded.
17. Throughout the remainder of 1919 the Unit was involved in the crating, and shipping to Canada of a large amount of German trophy aircraft, as well as aircraft and ground equipment presented by the British Government.
18. By the end of 1919 C.A.F. strength stood at three officers, and seventy two other ranks. No. 81/1 Squadron was formally disbanded on 28th January, 1920, followed by No.123/2 Squadron, and No1 Wing on 5th February.
19. It would seem evident thereafter that although 81 Squadron did become No. 1 Squadron C.A.F., the disbandment of the squadron at Shoreham in 1920 severed any further connection 81 Squadron claim to have with the Royal Canadian Air Force of later years.
20. Squadron Pilots. From the photographs in the R.C.A.F. Historical Section, and official nominal roles it would seem that No. 1 Squadron, normally had between about 15 and 25 Officers on strength. This included two Flight Commanders, an Engineering officer, and Armament officer, and a Medical officer. Among those that served n the squadron were Lt. G. L. Howsam, later an Air Vice- Marshal, Lt.M. V Heakes?, later an Air Marshal. Capt. G.O. Johnson, later an Air Marshal. Capt. D.R. McLaren was credited with 43 enemy aircraft, and 6 Balloons destroyed, McEwan with 22 enemy aircraft, Falkenberg with 14, and 1 balloon, Johnson with 13, and Howsen with 12 enemy aircraft.
21. Squadron Markings. Nothing is known of the markings carried by No. 81 Training Squadron aircraft, but the Sopwith Dolphins of 81/1 Squadron were painted in???stripes. In addition all squadron aircraft were marked with a maple leaf, (painted aft of the fuselage cockade) on which was superimposed the number "one". Some of the maple leaves were white with a blue "one", others appear to have a fawn, with a white trim, and a white "one". One of the Fokker DV 11 trophy aircraft, German serial number 8493/18, appears in some of the squadron photographs carrying the maple leaf insignia.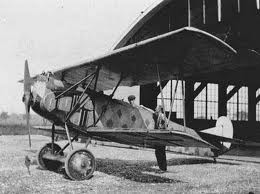 Fokker DV II